HONEYCOMB RESIN EDGE CHAMFERING WHEEL WITH SNAIL LOCK FOR ENGINEERED STONE
DESCRPITION:
JINSHAN honeycomb resin edge chamfering wheel is designed for edge polishing engineered stone consisting of grits 50# 100# 200# 400# 800# 1500# 3000# and 6000# as buff on automatic edge polishing machine. It can polish straight and beveled edges. The user-friendly snail lock adapter design which allows for quick changes when the wheel runs out.
SPECIFICATIONS:
Size: 4"(100mm) 5"(125mm) 6"(150mm)
Thickness: 7mm
Type: resin edge polishing wheel
Connection: snail lock (plastic base or bakelite base are optional)
Available grits: 50# 100# 200# 400# 800# 1500# 3000# and 6000# as buff
PACKING DETAILS:
1.1pcs in one box
2.80pcs in one carton
3.Around 20kgs each carton
4.Carton size: 48x33x25mm
Above are the packing details of dia.125mm edge chamfering wheel, for other sizes please contact us.
FEATURES:
1.Excellent for engineered stone applications (will not burn).
2.Honeycomb pattern for optimal water draining.
3.Great polishing effect without any color left on stone
DIA.125mm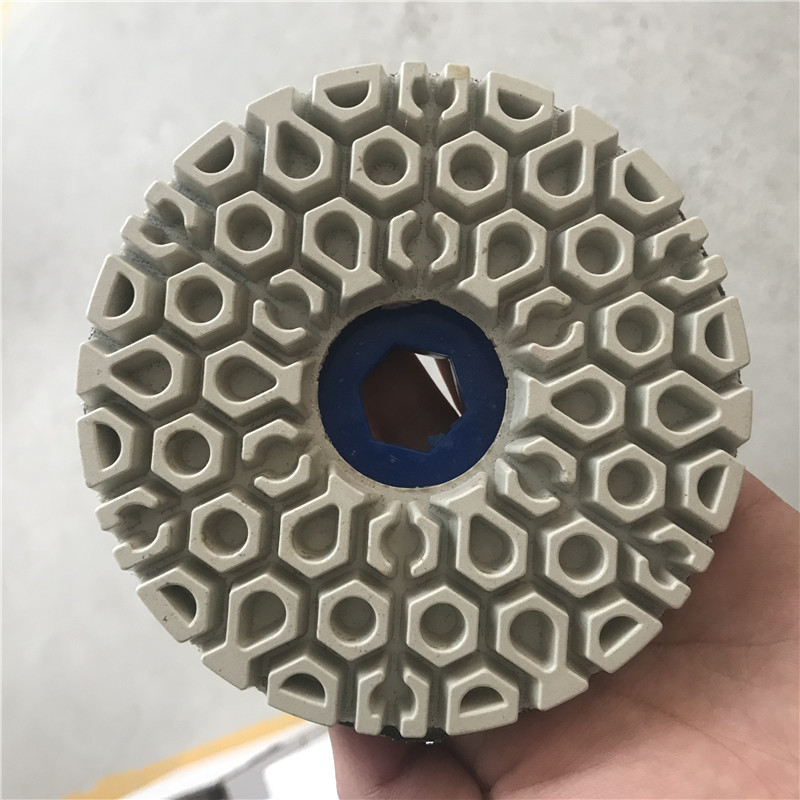 DIA.150mm